Marilyn Monroe Reads Joyce's Ulysses at the Playground (1955) by Eve Arnold
We worked on a beach on Long Island. She was visiting Norman Rosten the poet…. I asked her what she was reading when I went to pick her up (I was trying to get an idea of how she spent her time). She said she kept Ulysses in her car and had been reading it for a long time. She said she loved the sound of it and would read it aloud to herself to try to make sense of it — but she found it hard going. She couldn't read it consecutively. When we stopped at a local playground to photograph she got out the book and started to read while I loaded the film. So, of course, I photographed her. It was always a collaborative effort of photographer and subject where she was concerned — but almost more her input. EVE ARNOLD
Monroe's Molly: Three Reflections on Eve Arnold's Photograph of Marilyn Monroe Reading Ulysses
It is often said that Marilyn Monroe was even more brilliant in posing for still photography than for cinematic performances. She posed for a range of remarkable photographers creating a secondary archive of 'still Monroe'. Eve Arnold was one of the only women who contributed to this archive. Does gender inflect the images she made of this complex modernist woman of the 1950s? The photo-shoot that brought Arnold and Monroe together in 1955 has incited comment from both cultural and literary scholars because of the seemingly bizarre combination of the sex-goddess reading the most challenging modernist text, Ulysses by James Joyce. As part of the author's current project to re-'read' the Monroe still and moving image archive using the tools of a Warburgian art history focusing on gestures and affects, a postcolonial feminist class analysis of modern women as creative agents within/against sexist and racist cultural institutions, and as a feminist cultural theorist using psychoanalytically-inflected image analysis within historical specificity, this article seeks to revisit and re-read the double agency of the two women at work together making images mediated by what was offered to Baker-Monroe – and knowingly incorporated by her – by the gendered voice of Penelope-Molly in the final section of Ulysses.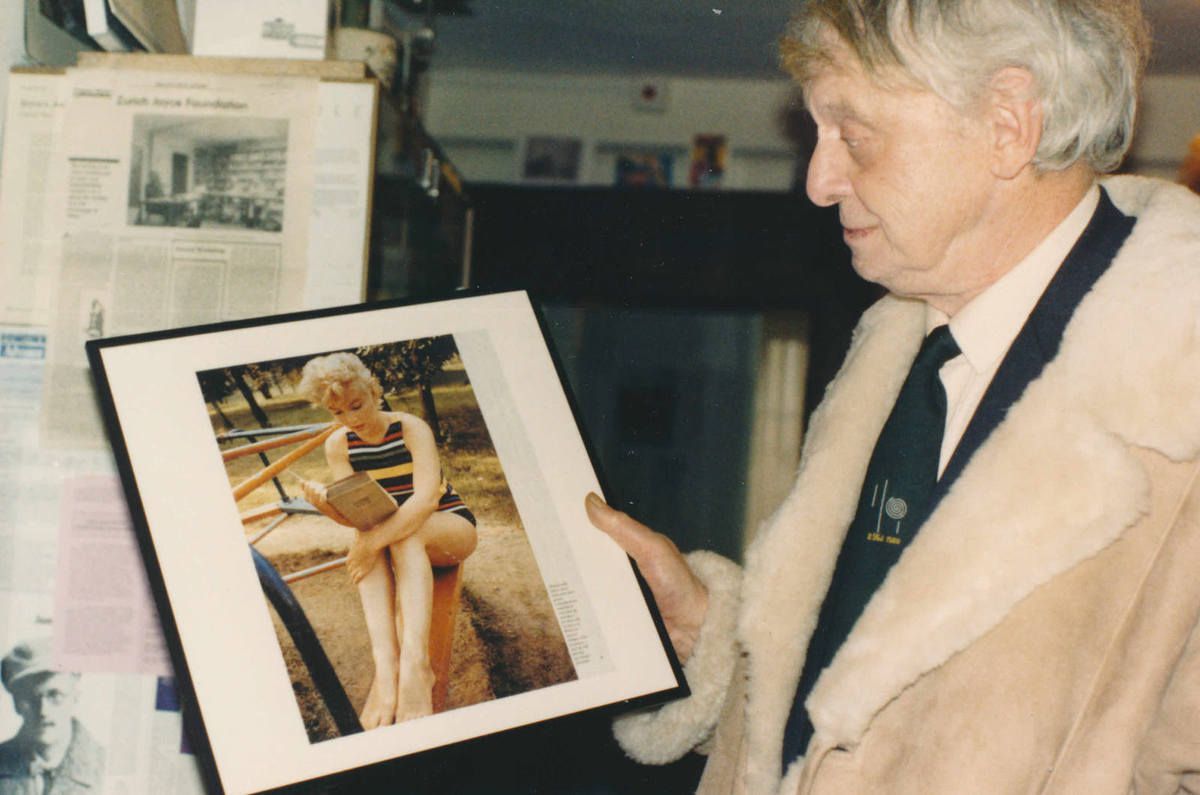 Marilyn Monroe, James Joyce and Anthony Burgess
Here is Burgess looking at a famous image (by the photographer Eve Arnold) of Marilyn Monroe reading James Joyce's Ulysses. Monroe appears to have nearly finished the book, and may be studying Molly Bloom's soliloquy. Burgess is at the 1982 Joyce centenary celebrations (wearing the commemorative tie) and seems to be in the James Joyce Museum in Dublin.
Burgess wrote extensively on Joyce, including the two critical studies Here Comes Everybody: An Introduction to James Joyce for the Ordinary Reader (1965, also published as Re:Joyce) andJoysprick: An Introduction to the Language of James Joyce (1973). He also edited A Shorter 'Finnegans Wake' (1966), and prepared at least part of A Shorter 'Ulysses' (now lost). His publications on Joyce sought to make accessible the challenging work of one of his favourite writers.
Burgess's 1992 essay on Monroe dwells on her iconic status: 'That she was a great comic ought to detract from her divine glamour. She had a quality she may have learnt from Mae West, the blonde seductress who mocked seduction, indeed mocked sex: this was the intimation that she, the true she, was somewhere outside her body, that her body was a kind of glorious impersonation, an image of an archetypal love goddess'. He never met Monroe himself, though his French collaborator Georges Belmont conducted an important interview with her in 1960.
Eve Arnold's image of Monroe adorns the cover of Ulysses and Us(2009) by Declan Kiberd, the latest popular exegesis of Joyce's text.